We're Hiring for a Research Assistant
Come and join us! We're looking for a research assistant for a 6 month contract building our E-Learning modules.
Read More
Callan Institute 2023 Training Schedule
Callan Institute training schedule for Positive Behaviour Support (PBS) or Friendship, Relationship & Sexuality (RUA) , 2023 dates .
Read More
e-learning course on Positive Behaviour Support
Do you want to learn about positive ways to change behaviour with children and adults with an intellectual disability and behaviour of concern? This On Line Course is For you....
Read More
MEBS Forum- 18th April & 21st November, 2023 Time: 2.00pm- 5.00pm- Zoom
This forum is designed for staff members who have completed the Longitudinal Course and/or Practice Certificate in Multi-Element Behaviour Support.
Read More
Systematic Instruction 2023 Zoom Training Dates.
Building Capacity through Skills Teaching: This course supports the teaching of skills using applied behaviour analysis....
Read More
Parents Resources on Identity, Friendships, Relationships & Sexuality.
These resources are designed to provide Parents with the information, confidence and skills to talk about growing up, relationships and sexuality to their children, teenagers and young adults with intellectual disabilities.
Read More
Positive Behaviour Support for Children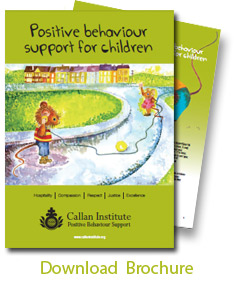 Do you want to know more about how to support a child with difficult situations? Our new leaflet is now available to explain how. Click to download a copy.
Read More
'Emotional Wellbeing and Disability during COVID 19' - Webinar Series.
Facilitated by Disability Psychotherapy Ireland and Callan Institute, Saint John of God Community Services clg.
Read More