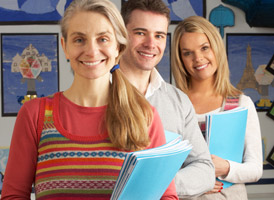 Practice Certificate in RUA
Raising Understanding and Awareness (RUA ) -provides a model of support that focuses on identity,friendship, relationships and sexuality in the lives of children and adults with intellectual disability. RUA uses a bio-psycho-social understanding of sexuality and a Human Rights Based Approach in practice. RUA also uses Plissit and High 5 Alive Models as part of a person centred approach.

This course develops students' practical skills as they support an individual in the areas of identity, friendships, relationships and sexuality as part of the individual's Personal Plan (and the person centred planning process.)
Students will become skilled in their ability to make everyday moments learning moments, as well as developing their competencies in the provision of bespoke educational initiatives.

Students will learn how to assess and evaluate formal and informal learning so that they can ensure evidenced based practice.
What will students be able to do when they finish this course?

Frontline staff members will be equipped to consider the learning and support needs of a particular individual in the area of relationships and sexuality, and be equipped to provide on-going information and support as part of a Personal Plan.
Supervisors and managers will be equipped to consider the learning and support needs of both individuals and teams, as they apply their learning to building the capacity of their teams to work within best practice standards in this area.
What will I receive on completion of this course?
Upon successful completion of this course, participants will receive a Practice Certificate in RUA awarded by Callan Institute and be recognised as having obtained the knowledge and P
Special features and Assignments:
Teaching and learning will be based on working together in a way that encourages the student to draw on their experiences and knowledge from practice. This will be facilitated through group discussion, critique and debate and delivered through lectures, group work, case studies, guided study, self-directed learning, additional reading and reflective practice.
There will be a progressive assessment framework applied throughout the course through a combination of practice based tasks and assignments. Each student will be required to submit a final reflective essay on their experience of learning and application of skills.
Are there any pre-requisites for applying to this course?
1. All applicants must have completed the RUA one day workshop.
2. All applicants must complete the application form that includes their reasons for wanting to complete this Course.
3. All applicants must have access to a person (adult or child) who is in need of RUA support or work within a team that would benefit from the RUA approach.
4. There must be a commitment from the service that the applicant will receive the support required to complete the assignments.
Dates 2023-
Module 1: 13th September 2023
Module 2: 25th October 2023
Module 3: 29th November 2023
Module 4: 17th January 2024
Module 5: 28th February 2024
Time: 9:30 pm -4:30 pm
Cost: €750 (Free to Saint John of God Community clg Employees)

Location of Course: Conference Centre, Saint John of God Hospitaller Ministries, Stillorgan, Co. Dublin A94 X5K8
Further Information: rua@sjog.ie or callan@sjog.ie